AC High Voltage Test Sets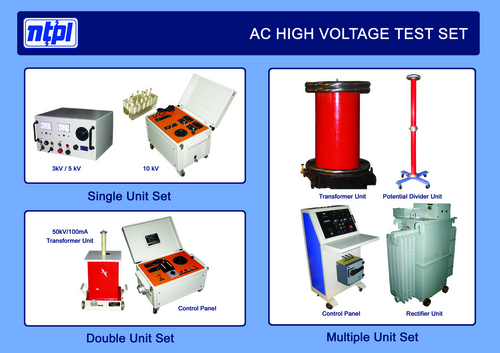 AC High Voltage Test Sets
Price And Quantity
Unit/Units,

5000-10000000 MXN ($)
Product Description
We are well-reckoned name in the industry in manufacturing and exporting precisely engineered AC High Voltage Test Sets. These high voltage testing sets are suitable for Power frequency AC high voltage test on transformers, motors, insulators, cables etc. Further, these testing sets are capable of giving continuously variable AC HIGH VOLTAGE from zero to maximum rated output voltage. Our team of competent professionals manufactures these testing sets as per international quality standards using supreme quality components. We assure our clients the on-time delivery of these AC High Voltage Test Sets at rock-bottom prices.
Features:
Robust construction
Smooth operation
Long functional life
High performance
Specifications:

Input
Generally, 230 Volts, 50Hz, single phase AC, upto 10KVA & 400/415V, two phase out of three phases for sets beyond 10KVA.However, we also manufacture AC H.V. sets workable on other input voltage at extra cost.
Output
Continuously variable from zero to maximum rated output voltage
Capacity
Spread over a wide range of sets from 2.5KV to 300KV AC having capacities from several VA to hundreds of KVA.
Duty cycle
Intermittent i.e., 5 minutes ON, 10 minutes OFF. However, test sets of continuous or other duty cycles can also be manufactured at extra cost.
Metering
Analog voltmeter & milliammeter/ammeter. Digital meters may be provided at extra cost.
Protection
Tripping mechanism for protecting the H.V. transformer against over loading. The tripping mechanism can be adjusted at 25, 50 & 100% of the rated current by a rotary switch. Below 100mA & above 20mA two adjustable tripping ranges are at 50% &100%, while for sets of 20mA capacity or below only 100% is adjustable [If required by the users tripping current can be made adjustable at other values, at extra cost]. Apart from tripping mechanism, Zero start interlocking along with Overvoltage alarm & indication are provided.
Mode of operation
The Sets are generally, motor operated beyond 20KVA & 50KV. Motorisation facility can be available below the specified value at extra cost.
H.V Transformer
H.V.Transformer used for the testing purpose can be oil cooled indoor type or Resin cast dry type as found suitable or particularly required by the customer. The H.V. winding of the high voltage testing transformers is of graded insulation, one end of which is grounded through milliammeter and tripping device while the other end remains in floating condition as H.V. terminal. These testing transformers are specially designed to withstand frequent intermittent spark over or momentary short circuit conditions under which such testing transformers are supposed to operate.
Discharge Rod
For device under tests having large capacitance, discharge rod may be provided at an extra cost.
While sending enquiry for quotation or order please specify the following,
Input voltage and frequency.
Maximum output voltage.
Capacity.
Type of transformer Oil cooled or Cast Resin
Duty Cycle.
Mode of operation: Manual/Motor operated/ Fully automatic.
Any other details you find important to be specified